Supportive Living Facility in Peoria | St. Francis Woods
Affordable living for seniors in a caring environment
Situated in a scenic woodland location close to many shopping and dining options, St. Francis Woods combines the independence of your own apartment with the support of on-site staff who can assist with care when needed. Our comfortable, homelike atmosphere will make us the first choice for your senior living needs.
What Is Supportive Living?
Learn the difference between Supportive Living and Assisted Living.
---
St. Francis Woods residents have the luxury of living independently in their own private apartment. This helps promote self-sufficiency while still having nursing care and other supportive services when needed. We provide our residents with three meals a day plus snacks, housekeeping and laundry services, social interaction, health and wellness activities, medication assistance, and so much more.
Supportive living provides a solution to the growing need for affordable housing for today's senior (age 65 or better) who does not yet need a nursing home but could benefit from a little extra help. The main difference between assisted living and supportive living is how it's financed.
Supportive Living Facilities Accept Medicaid
Whereas assisted living is strictly private pay, St. Francis Woods accepts Medicaid as payment. The Supportive Living program is designed to offer residents who qualify the opportunity to pay through a combination of their own social security income and Medicaid benefits when unable to pay privately. For those who are able to pay privately, we offer the option of a smooth transition from private pay to Medicaid so no resident has to leave their home at St. Francis Woods due to running low on personal funds.
Everything You Need in a Supportive Living Facility
Our Home is Your Home.
---
We want everyone who enters through our doors to feel comfortable. Our goal, in all that we do, is to provide the best possible experience for our residents and their loved ones.
---
From financial assistance to medication management, our trained staff members are always here for you and your loved ones . Our supportive living facility is more than just medical care, but care with a personal touch.
---
At St. Francis Woods, we are dedicated to providing the best possible amenities to our residents.
---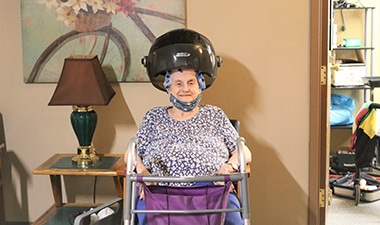 Supportive Living doesn't have to mean a boring way of life for our residents here at St. Francis Woods. We provide plenty of fun activities such as playing bingo, movie nights, nature walks, etc. We even have a large chapel located in our facility for our residents to enjoy.
We strive for our residents to feel cared for, without feeling spiritless. If a resident feels like reading a book, enjoying our indoor aviary enclosure, enjoying the fresh air outdoors, or watching TV - they can. We also plan special outings, such as Chiefs games, shopping trips, and zoo visits, so our residents can enjoy fun activities outside of the facility.
---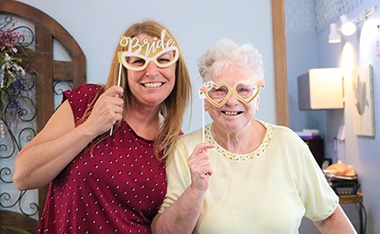 We prioritize community and socialization at St. Francis Woods. Research has claimed that socialization amongst the elderly helps their daily function and overall health, so we can make sure our residents have social interaction daily.
Your loved ones will never be lonely at our facility. With other residents, our staff, activities, and meals in the dining hall - there are plenty of opportunities for socializing amongst our residents. They can also join the Resident Council to make votes and decisions in our facility.
---
Featured Amenities at St. Francis Woods Supportive Living
In addition to having a beautiful facility and top quality nurses, we also accept Medicaid payment so financial constrictions will never stand in the way of getting the care you or your loved one needs. Learn more about our individual services and amenities below.
---
Care is What We Do Best at St. Francis Woods.
Enriching the lives of our residents, one step at a time.
Our personalized solutions provide the best care for each individual resident that lives here at St. Francis Woods. We value you and your loved ones, and we value your trust. Learn more about our trained staff and why we are the top choice for Supportive Living in Peoria, IL.
---
Do You Have Any Questions About Us?
---
Submit any questions or comments on the form below and our friendly staff will reach out to you via your preferred contact method with helpful answers. Please feel free to ask any questions about our supportive living community and we'll be happy to help!
---
---
"Living here has changed my life a lot. I had some serious medical issues while living in my home before I came here and I knew I couldn't go back to the same environment. I asked God to help me! He has helped me get well so I can help other people like me. I believe it was a calling from God that I am here at St. Francis Woods. I am a better person, and I have peace and patience. Thanks to all the staff for making this an excellent home for me!"
– Bonnie Boston, Resident of St. Francis Woods
Visit Saint Francis Woods today for a tour of our facilities.
To set up a tour call (309) 688-0093